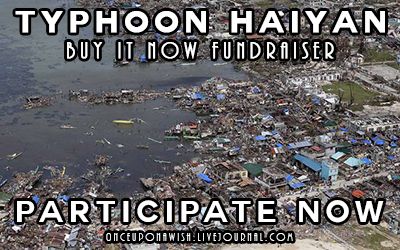 As a lot of you might have seen on the news etc. The Philippines has been devastated by the fiercest typhoon ever recorded, with over ten thousand people already feared to have perished.
Having seen
fandomaid
own fundraiser for typhoon haiyan, which you can take part in
HERE.
I was reminded of this community. Now the first auction didn't go quite the way I intended (I fear that may have been my fault real life crept up on me and stole me away for a while…anyway that's hardly the point). The point is I'm giving this comm another go and trying to help raise some money for this cause! PLEASE HELP SPREAD THE WORD!
This is a
BUY IT NOW
fundraiser!
DONATIONS ARE TO BE MADE IMMEDIATELY.Authors/Artists
|| Sign up with a reply to this entry using the form below (if you want to offer multiple works, ie. fic, icons, fanmix, please sign up separately for each).
Donors
|| Claim your author/artist and make your donation to an approved organisation
immediately.
Remove any identifying information and send confirmation either to the
donation conformation page
or to onceuponawishmods@gmail.com.
</center>
APPROVED DONATION OPTIONS
Please feel free to suggest other options in the comment below as they become available...
INTERNATIONAL RED CROSS |
http://www.icrc.org/eng/
AUSTRALIAN RED CROSS |
http://www.redcross.org.au/typhoon-haiyan-2013.aspx
BRITISH RED CROSS |
http://www.redcross.org.uk/
CANADIAN RED CROSS |
http://www.redcross.ca/
NEW ZEALAND RED CROSS |
https://www.redcross.org.nz/
DOCTORS WITHOUT BORDERS |
http://www.doctorswithoutborders.org/
UNICEF |
http://www.unicef.org/media/media_70853.html